Poultry Meat Rendering Plant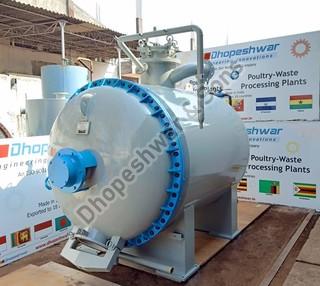 Business Type
Manufacturer, Exporter, Supplier
Country of Origin
India
Type
Automatic
Certification
ISI Certified
Click to view more
Poultry Waste Rendering Plants for Sterilized Meat Meal are an indispensable part of poultry dressing operations. Poultry dressing or slaughter results in waste which is almost 30 % of live bird weight. All the waste resulting from processing is pressure cooked, sterilized & rendered into a sterilized meat meal. This is also technically known as 'Poultry By-product Hydrolyzed Feather Meal (PBHFM).

This meat meal made from poultry waste contains about 60-65% protein and 20-22% fat & 8-10% moisture. Hence, Rendering plants are also known as Protein Recovery Plants.

The process of Rendering is done in batches. Our poultry Waste Rendering Plants are supplied in different capacities from 500 Kg. to 3500 Kg of waste per batch. These plants can process about 6000 kg of waste per day in 1 digestor. A battery of digestors can be used when the waste is in a larger quantity. Larger batch capacities can also be supplied.

Following are some of the important features of our rendering plants :
Incorporates the latest vacuum drying operation Digestor-Cooker- Homogenizer has all the safety features for consistent operations
Incorporates Barometric spray system to absorb all the foul smell. It Prevents air pollution to ensure eco-friendly operations
Robustly built
Provided with sophisticated monitoring system to ensure maximum convenience and safety of operation

Advantages :
Prevents environment pollution by disposing of all biological waste.
Offers optimum utilization of animal resources since meat meal is used for making animal feed
More effective and profitable than any other waste-disposal method
Converts entire poultry waste into high protein sterilized meat meal
Looking for "
Poultry Meat Rendering Plant

" ?