Hybrid Chicken Processing Plant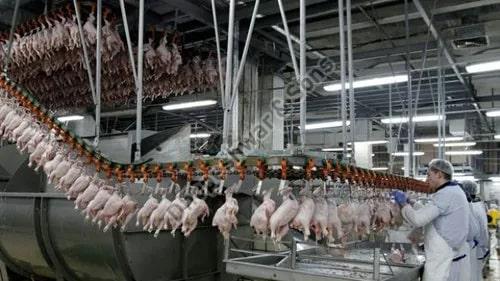 Business Type
Manufacturer, Exporter, Supplier
Country of Origin
India
Type
Automatic
Certification
CE Certified
Click to view more
A fully conveyorized plant starts with loading of birds on conveyor trolley / shackles and ends with hock cutting to discharge the bird directly into a chiller.

The conveyor passes through different processing stages while birds are kept online throughout. Most of the processing is done automatically in special purpose machines and evisceration is done manually while bird is still on the conveyor shackle.

Hybrid plant uses some of the most important features of a conveyorized plant with mini processing equipment. It combines the use of conveyor and some equipment for Online processing with scalder and feather plucker kept Offline. The plant is custom built for increasing the adaptability of processing to get both the bird with skin as well as skinless birds while lowering the cost of installation.

Details :
Online processing : Stunning, Halal, Bleeding, Neck removal, Hock (leg) cutter.
Offline processing : Hot water scalder, Feather plucker, Evisceration.
Hybird Plant on stand : Capacity : 1000 - 4000 birds per day.
Construction : Overhead conveyor, T Track with nylon Rollers, Non-rust Aluminium trolleys, Non-rust SS shackles, Driven by geared motor. Total Argon TIG welded.
Looking for "
Hybrid Chicken Processing Plant

" ?
Piece